When you hear the word godfather, you might think of a family member or friend who was fairly close to you when you were really young, someone that looked after you spiritually or otherwise. Maybe you think of Marlon Brando or Al Pacino. However, one definition of godfather is: "a person who is regarded as the originator or principal shaper of a movement, school of thought, art form, industry, or the like" (dictionary.com). While many come and go in the drawback world, Ed Van Ek spent 30 years building his reputation for C.J. Holt & Co., Inc. as the source for drawback information, for his depth of knowledge, and for the ways that he helped redefine and shape drawback as his career progressed. When you have that kind of impact on the people who work with you and around you, it's easy to see how you might grow to be so respected to earn the title "The Godfather of Drawback".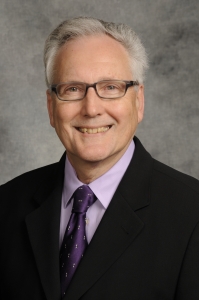 Ed was working as a middle school teacher in bear country when a new opportunity presented itself. Ed's wife Lynn had a connection with Dave Simcox, the president of Comstock & Theakston, Inc. (Comstock), through a singing group that they were in together at their church. The singing group had a party one afternoon where Ed and Dave got to talking. Two months down the road in 1982, Ed had moved on from the woods of northern NJ to the Woolworth Building in New York City. Comstock purchased C.J. Holt & Co. (Holt) in 1987, and Ed was chosen to run the new subsidiary company as the president of Holt. Ed immediately went out to visit each Holt account to assure them that the company would be dedicated to the best customer service and would maximize their drawback potential. In doing so, clients came to know Ed as a friendly face with drawback knowledge to spare. He worked to modernize Holt, bringing the company out of the past and into the modern drawback era.
Leading the Charge for Change
After many decades without major changes (none really since the Tariff Act of 1930), the 1990s brought new attention to drawback with the introduction of the North American Free Trade Agreement (NAFTA) in 1994 and in 1998. Ed was invited to join a team from the trade and the Customs Service to make changes to the regulations through interest-based negotiating, where an outside contractor was brought in to help the trade and Customs work through the issues that were important to each side. Maryanne Carney, Drawback Branch Chief for the Port of New York/New Jersey and Assistant Port Director Trade Operations for Customs & Border Protection, remembers those times with Ed very well. She said that Ed "always was a consummate gentleman and you could always talk things through with him."  She remembers that Ed appreciated when Sam Banks, the acting commissioner of the Customs Service at the time, came in and gave the team Customs hats and took the time to thank everyone for their hard work. There were light moments of laughter through the process, which she remembers fondly. Ed and the rest of the team earned the Vice President's Hammer Award for their work in improving the way government works and reducing red tape.
As NAFTA was coming into existence, Ed and his role in the drawback community would grow as he was named the co-chairman of the Drawback and Duty Deferral Committee with the American Association of Exporters and Importers (AAEI). Marianne Rowden, President & CEO of AAEI said that "Ed was an exemplar of Holt as an institution in the Customs and international trade community. In sum, always a gentleman, a scholar of Customs' drawback law, and supporter of AAEI." Ed served faithfully in this role for more than two decades to bring about changes that were needed and to be the voice for many in the drawback industry. Megan Montgomery, who worked for 10 years with Ed to assist in staffing the AAEI Drawback Committee meetings and is now the Executive Vice President for the National Customs Brokers and Forwarders Association of America (NCBFAA), said that "Ed is gracious, impeccable in his word, forthright, fair, reasonable, immaculate in his presentation, and able to take the listener on a journey from the basics of drawback to the most complicated nuances with patience and grace" and that he "gave freely of himself and his expertise for the good of the drawback and wider trade community, and I miss him, his example, and his expertise literally every day." Ed was "a pleasure to work with every time we had the opportunity to interact".
Setting the Stage for ACE and Drawback Simplification
In 2001, Customs formed a Trade Support Network (TSN) to work through modernization and automation efforts with the trade community. Ed was called upon to chair the Drawback Subcommittee to start the conversation on how to bring drawback into the 21st Century. The principals of this group were laid out through the interest-based negotiations of the regulations in 1998, Ed explains. Through the TSN, ideas were presented to push drawback, a technical and complex program, to the modern world through the Automated Commercial Environment (ACE). After many years of conversation and deep-rooted discussion about how to make it work, drawback will finally be realized in ACE in 2018. The infrastructure that Ed initiated for the foundation of this automation bears his imprint as it moves forward today.
Around the time that the TSN was forming, there had been increasing conversations about simplifying drawback. Ed, considered by many in the trade to be a drawback expert, started with a team from the trade to lobby Congress for changes. Michael Cerny, Vice President with Sandler Travis Trade Advisory Services and the chairman of the Drawback Subcommittee for the Trade Support Network, among other leadership positions for drawback, said of Ed, "He shepherded our industry through many challenges, ultimately becoming a driving force for drawback modernization with his work on the changes to the drawback law finally enacted in 2016." The proposed changes in the law would need a legislative vehicle to attach itself to, and that proved to be challenging, as a change in presidential or congressional administration meant changes to staff and starting from scratch in conversation to train staffers on why drawback was so important. Ed said "every time we went to Congress, we laid the groundwork for why drawback was established: it was to increase jobs, to increase exports and to support manufacturers in this country." There were times when Ed would engage specific clients and other members of the trade to write to their congressional representatives to support drawback simplification and legislation, and that proved beneficial on numerous occasions. The consistent grass-roots efforts of Ed and the team finally paid off when Section 906 was added to the Trade Facilitation and Trade Enforcement Act of 2015, which was ultimately passed through both chambers of Congress and signed by President Obama in February of 2016. Ed said that "the political side was fascinating" and that over the last 10 years, he would enjoy this part of his job the most.
An Enduring Legacy
As his career wound down in 2013, it's easy to see why such a title would be given to Ed Van Ek. Would anyone at this point need to ask why you would want to learn from The Godfather of Drawback? If someone has this title because they have helped to shape and define an industry, as Ed did, then that should be reason alone to learn anything possible from him. Outside of that though, you should want to learn from him because duty drawback is so much more than just an import and/or export transaction. What makes drawback so complex is the policies, the regulations, and the legislation that all converge on this specialized process to obtain refunds from the federal government. Our industry is special because of the people that collaborate together: to make sure that drawback works the way it was designed 228 years ago, and to bring it forward in today's modern world. Ed Van Ek was a Godfather for this industry. He made drawback seem simple. When he decided it was time to ride off into the sunset toward the beach, according to Megan Montgomery (EVP, NCBFAA), his retirement from the industry "has left a hole in the trade community that may never be filled."
Dave Simcox, Ed's employer and friend for 35 years, describes their years together in this way: "Ed was one of those rare individuals with the inordinate ability to communicate and convey difficult concepts in understandable verbiage.  I never considered Ed as someone that worked for me as much as someone that worked with me.  He set the standard for professionalism and expertise in our industry, and was unequaled in his desire to serve our industry and move it into the future.  His efforts will always be appreciated, and his presence continu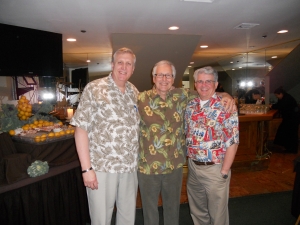 es to be missed."
Ed certainly is The Godfather of Drawback, and though he is missed in the activities of today's drawback world, our industry was very lucky to have Ed's guidance and leadership for the years that we did.
Enjoy the coast and the waves splashing on your feet, Ed, you've more than earned it!