We are pleased to announce the immediate appointment of Margo (Simcox) VanHeusden as the new President of both Comstock & Theakston, Inc. and C.J. Holt & Co., Inc.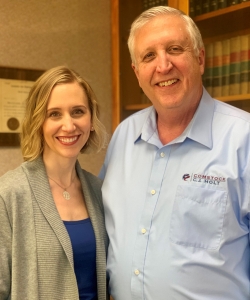 Dave Simcox, who has been President since 1975, will remain with the companies and will actively serve as the Chief Executive Officer. Margo is the fourth generation of the family to manage the companies. She joined the company in 2013 after working at a Fortune 500 insurance broker in New York City for several years in Global Marketing, and earned her Customs Broker License in 2014. In the past six years, she has led all corporate marketing efforts and spearheaded expansion of our IT capabilities, hiring of new staff, and overall development efforts. Additionally, she has worked with dozens of clients on management and expansion of their drawback programs, and has restructured and streamlined the educational offerings of our companies. "Margo's experience and demonstration of leadership has helped us to grow in the midst of transition in this industry" said Dave Simcox, CEO. "She has positioned us well for future corporate expansion and I look forward to all she will do for this company."
Comstock has specialized exclusively in the recovery of U.S. duty drawback for 125 years. Along with its subsidiary, C.J. Holt, the companies collaborate seamlessly, sharing staff and resources to optimize duty drawback opportunities for our clients as the recognized name for duty drawback services.